HIDEAWAY MESH BACKPACK


Foldable mesh backpack. 420 Denier nylon. Polyester mesh and rust-proof heavy duty YKK Delrin Zippers
BG8544
Size: 70cm x 37cm x 37cm
Colour: Black
PROBLUE DUFFEL BAG



420 Denier nylon, rust proof, heavy duty YKK Delrin zippers.
2" Nylon support webbing.
BG8553
Size: 72cm x 40cm x 37cm
Colour: Black/Blue
HIDEAWAY MESH DUFFEL


Foldable mesh duffel. 420 Denier nylon
Polyester mesh and rust-proof heavy duty YKK Delrin Zippers
BG8545
Size: 72cm x 38cm x 38cm
Colour: Black

MESH BAGS

Polyester mesh drawstring bag
with a shoulder strap.
Sizes: 18" x 30", 24" x 36", 12" x 15"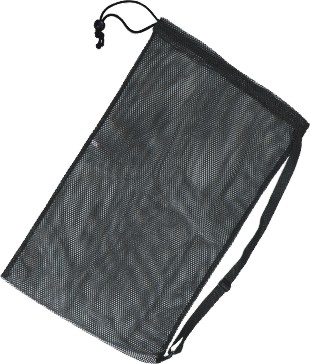 SNORKELING BACKPACK
Large snorkeling backpack with shoulder straps and carry handle. Water bottle holder, seperate mask pocket. Nylon and mesh for drainage.
BG8511 Size: 27" x 10" x 7"
Colours: Black/Blue, Black/Yellow

SNORKELING MESH BACKPACK
Two sizes of mesh snorkeling backpacks with shoulder straps ideal for masks, snorkels and fins.